"If you don't define what the brand means, your competitors will,"
– Richard Branson
The Value of Branding
We buy and use products and services for a variety of reasons…they are convenient, serve a purpose or fit our budget for example. But we covet, feel passionately about and become ambassadors for certain Brands without regard to price, practicality or fitness for purpose.
While there is no "secret sauce" or "magic bullet" for creating brand passion overnight Branding can help build this affinity over time. Reinforcement of elements such as logos, color application, image selection, messaging and layout in advertising, design and promotion to create consistent brand experiences is Branding.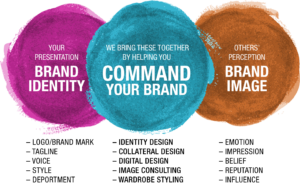 Brand Identity is how a person or entity presents itself and everything they produce, both tangible and intangible (logo, tagline/slogan, values, signage, physical space, online/offline, uniforms/dress code, morale, advertising or packaging for example) to be regarded in a certain way.
Brand Image is the reputation or influence a brand holds, how that company or entity is actually perceived (feelings and emotions people associate with and the stories they tell about your brand.)
Commanding Your Brand is when how you are regarded (Brand Image) and how you present yourself (Brand Identity) are aligned.
How does it work?
I hear from clients that they don't understand, and sometimes even are intimidated by, the Creative Process. The good news is that you don't need to understand the Creative Process because working with MEO is easy as 1, 2, 3…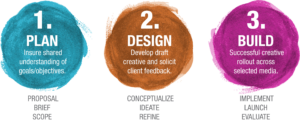 1. Plan for successful outcomes by clearly defining communication goals, objectives, requirements and project scope and budget at the outset. Using common tools like proposals, timelines and creative briefs facilitates dialog between MEO and clients to insure a shared understanding of the overall project.
2. Design compelling creative that is consistent with the brand and agreed-on communication goals, objectives and requirements for the project. Creative will be submitted for client feedback at Checkpoints outlined in the project Timeline, and refinements made accordingly. MEO's motto is On Brand, On Budget, On Time.
3. Build and deploy final deliverables in formats outlined in the project Proposal. Following project rollout/launch/deployment, track analytics, evaluate performance and recommend follow-up and next steps as needed.